The Way from Tawaramachi Station to Tokyo Ryokan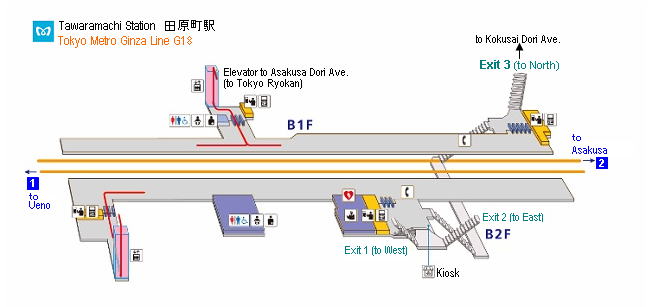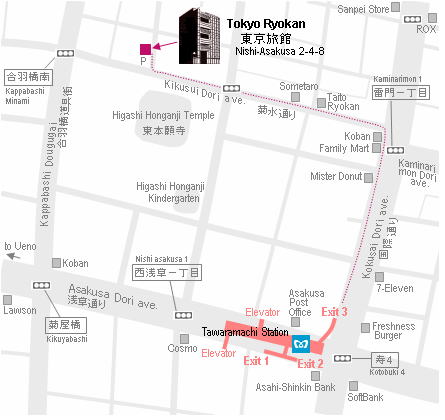 1) Take exit #3 of Tawaramachi sta. (G18) on Tokyo Metro Ginza Line.
2) Go north (go straight as same direction as you go up stairs from underground) towards Mister Donut, FamilyMart (this convenience store shall be seen on your left hand side), Tawaramachi police box (in Japanese, 'Koban' very small two-story building, easy to miss!), Asakusa view hotel (you've gone too far if you reached this hotel).
3) Turn left at the corner where Tawaramachi police box (the 'Koban') is located on your left hand side - just next after FamilyMart. This should be way before Asakusa view hotel or SanPeiStore. You will enter Kikusui dori avenue now (no English sign).
4) Pass Taito Ryokan on your right hand side, and pass the first traffic lights, then you should see the large roof of a temple on your left hand side. Turn right at the very first T-junction right at car parking lot (you'll see grave yards with tombs as well over the wall on your left hand side). This turning right should be before Kappabashi-minami-intersection traffic lights (second traffic lights on Kikusui dori avenue). Please do not go crossing this second traffic lights.
5) You'll find us on your left hand side immediately after the turning right at the car parking lot (P-ECOLO). In another words, Tokyo Ryokan is next to the car parking lot (P-ECOLO). Welcome to Tokyo Ryokan!
Any difficulties finding us? Please call 090-8879-3599 for quick assistance.